It has been for 3 weeks since I moved to Tokyo.
Everything goes well so far, I like my neighborhood, Tokyo friends, food, sakura, job and everything.
Also I like my apartment.
The building itself is not that cool, but after I put furunitures and hang the arts on the wall, it became pretty comfy.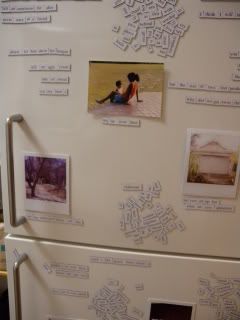 My favorite part of my apartment is this fridge art.
Maden by the poetry magnets and snapshots.
Beth made some cool and nasty words.
The picture in the middle is from when I was 2 yeas old or younger.
My mom was so young like a girl in the picture and I was like a Chicken Little.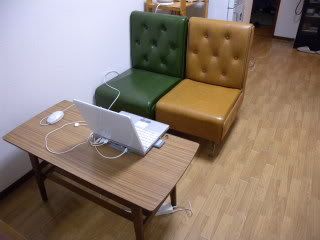 And I like this couches, too.
These are from the small antique shop in my neoghborhood, Nishiogikubo which is famous for antique and used shops.
The carpenter of the antique store was so nice and he said these couches came from the old cafe in Kamakura.
After this apartment, I wanna rent the small old house and share it with some friends.
I will stay in this apartment for a while at least for two years.
Come to my apartment to hang out and make some stupid words on my fridge!
Everyone is welcome!
話は変わるけど、最近思うこと。
日本にある古い洋風が好き。
Westernじゃなくて、西洋風がいいな。
明治・大正・昭和とかに人々が憧れた西洋の感じが素敵です。
横浜に住んでるお兄ちゃんのアパートのそばにはそういう建物がいくつかあるし、何年か前に行った神戸もよかった。
西洋だけどジャパナイズトされてるから、馴染みやすいのかな。
ごはんもフレンチとかハンバーガーとかにはそんなに惹かれないけど、オムライスとかコロッケとかいう洋食に弱いのです。
中央線沿いはちょっとマニアックな食べ物があるみたい。
おいしい洋食屋さん発掘したいな。