ちえっぱ選手と公園で待ち合わせした。
その日は太陽がみかんみたいに黄色い午後。
トロトロに溶けながらともちゃんに葉書書いてて思った。
あたしが今見てる太陽は数時間後にポートランドに昇るのよね。
だって太陽って一個だし、地球は丸いし。
そっか、同じ太陽の下にいるのか。
その気があれば飛んでいけちゃいそう。
日本でもっと窮屈に感じるのかなって思ってたけど、実際はそうでもなかったな。
無感情になってしまったせいかなって思ってたけど、それはたぶん違う。
きっと受け入れることを覚えたんだと思う。
それにすごい救われてる今日この頃。
I took the train to Nagoya to see Chie.
Between nagoya and gifu is so rural and nobody was in the train.
i thought many things with listening starfucker.
I wanted to be in the train forever.
If i didn't took off the train, it took me to the pacific ocean.
i thought i could have felt more uncomfortable in japan.
Of course i miss portland to death but it's different things from how i'm feeling about japan.
i'm doing ok here.
Here is not the perfect place for me but i accept everything.
I learned how to accept.
"Accept" doesn't mean compromise, but i understand how things go in a good way.
Change is good, one day my friend Peter told me so.
For now I'm excited to move to tokyo.
As the first step of my new life, i will go to Tokyo next week to find the apartment which is gonna be the second place for me and Beth.
I hope I can find the good one.
Wish me luck!
I met up with chie and she took me to the jazz cafe.
I helped Chie making the scrapbook of portland.
She is always creative and dedicated for everything.
Meanwhile, I am a very rough and easy going person so we work so well i think.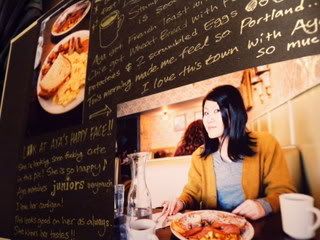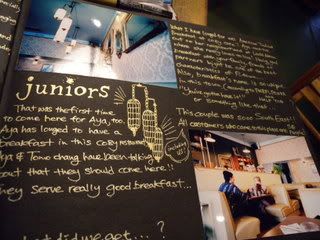 Also I'm always laughing so hard with chie because she is ultra funny.
That day we were laughing a lot as usual looking the bunch of photos we took in portland.
Then, the owner came to us and said, "please not laughing with clapping your hands... we are playing the jazz record..."
Hahaha, sorry!
Anyway, i'm so luckey to have the good friends in japan i can share about portland with.
I will do my scrapbook of Portland in this blog sometime soon hopefully.
Btw, finally Wii came to my house.
I had so much fun playing wii at jer's in portland.
I will turn to be a nard playing Wii for the next few days.
Friends! Take me out from my parent house!