In Portland, everybody is an artist.
That's the thing I like about Portland.
Early in the new year, I went to do "artist"!
Craft night at Grasshut garelly in East Burnside.
"You bring your imagination, your kids, your dogs and your good vibes."
When we got there, it was almost over and the paper on the wall was almost full with drawing.
Those were just a long sheet of papar and markers, but the quality of the arts were so good!
I guess some serious local artists, who actually make arts and do their show there, came earlier and drew.
I'm not so good at drawing, but I don't care and who cares?
Tomochan and I started to draw the portraits each other.
Looks like her, isn't it?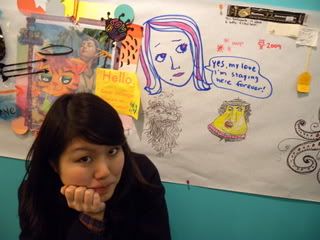 The blue line with pink color one.
I like hers a lot!
Tomochan is such a good artist!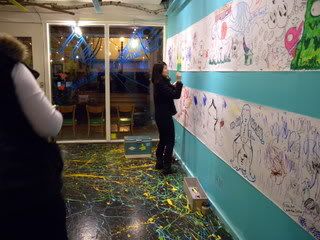 Drawing on the wall is fun! fun!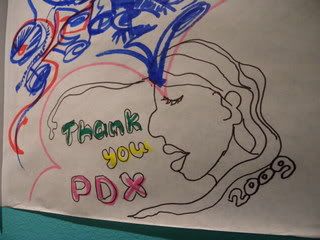 My second one.
Thank you PDX!
That was my first art activity in 2009.
After that, we walked across Burnside and went to Doug Fir to see the show of my ex-roomie Micheal's band.
I knew he was musician but I didn't know how he was as a musician.
I was so surprized at his performance which was profesional.
Ok, here I need to take a deep breath before writing about this....
THE FAMILY GUN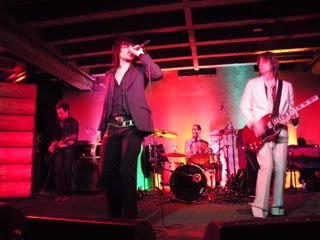 This band which played after Michael's band was kinda main one at the event.
I lost words and became the deboned human in front of the stage.
Hot! HOt! HOT!
Perfect outfits from 60's or 70's.
Sophisticated rock'n'roll action on the stage.
Pure rock'n'roll - sounds like Rolling Stones I guess?
I usually listen indie, pop, electro, hiphop or whatever, but not rock'n'roll.
I don't even know what the pure rock'n'roll is.
So I'm not sure if I can say they sound like Rolling Stones.
I wanted Beth to see this band.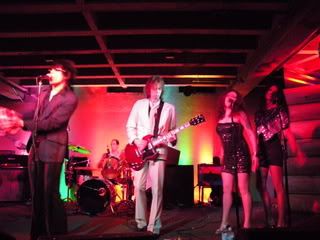 Anyway we completely fell in love with the band especially the vocal guy.
I can't explain the detal of why we are into him so much.
Simply because he has the extreme aura.
After the show, we could come in to the backstage room because of Micheal.
Thank you, Micheal!
OMG!
There were the band members sitting and chatting.
Micheal talked to the vocal guy whose name is Micheal also and we started to talk with him.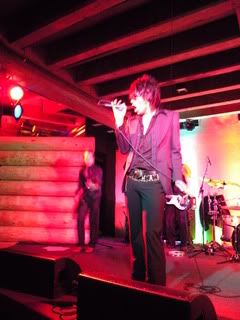 I was afraid he could be snobby because he had strong aura.
No! Not at all!
He was super nice guy.
Cool and nice, no more opponent in this world.
I know some people in Portland who are super sophisticated, good looking or fashion, and talented PLUS nice personality.
I'm just wondering how they can be like that.
Nice personality is absolutly one of the talent.
They make me think "people are amazing."
When I was in high school, there was the local hiphop group I really liked.
I acted like groupie when I went to see their show and talked to them.
The night reminds me those days, yeah I'm still young!
I asked him to take a picture with me. haha.
We found our idol in this town.
If I see him doing the grocery shopping, I will be disappointed because he is our IDOL.
They will have the show again this month.
I can't wait!