The Last Thursday would have been my last Last Thursday.
I went to Alberta to see the art show Justin curated.
There were some arts I liked but I can't remember the name of the artist.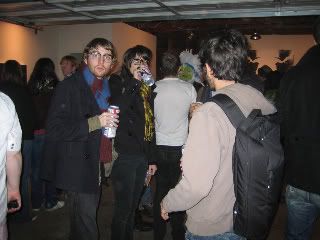 After the show, we sit around the fire with the random weird and middle age guy who wore U of O pants and the big sunglass -fyi, it was after midnight.
I didn't completely get what he was talking about.
After he left, we were like WTF?
It was fun.
I liked how Justin treated the weird guy.
今月もLast Thursday行ってきました。
これが最後かもって思うとちょっとせつなかったです。
このショウはジャスティンがキュレーターとして手がける初展覧会で、作品は全部PNCA(というアートスクール、人々いわくとてもいい学校だそう。)の生徒のものらしく、
Last Thursdayはストリートイベントで、このショウも家のガレージを改装してギャラリーにしたもの。
Last Thursdayは野外だから、夏にめっちゃ盛り上がるぶん、冬は普通けっこうスローになるんだけど、この日は10月にもかかわらずけっこう人が来ててびっくりでした。
ショウがひと段落した後、ちょいと他のパーティーに出かけ、戻ってきたらギャラリーもけっこう静かで、火を囲んでちょっとショウの余韻を楽しんだ。
そしたら見知らぬおじさんがやってきて、とりあえずこのおじさんめっちゃ変で、まずこのサングラスにU of Oのハーフパンツ、インパクト大やった。
思わず聞いたよね。「写真とってもいい?」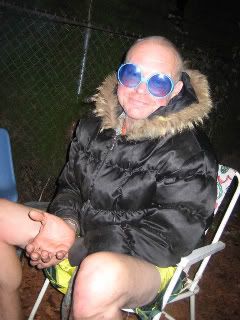 マットはスペイン語話始めるし、このおじさんはとりあえずマットのスペイン語をベタ褒めして、自分の身の上話を散々してしかもその話もう何がなんだかさっぱりわからんくて、もうくちゃくちゃ。
ジャスティンは途中でおじさんに「歳当ててみて!」とか言い始めて、
おじさんが最初に22才って言ったら、「そんなに子供に見えるのか?」って言って、このおじさんオロオロ。
「えっと、じゃあ27?」って言ったら「おいおい、おれはそんな年増か?」って言って、またこのおじさんオロオロ。
「じゃあ何歳なんだよ~」「26歳だよ」「おいおい~27とそんな変わらないじゃないか~」
みたいな感じで、ちょっとおもしろさが伝わりにくいけど、ジャスティンのからかい方がけっこう笑えた。
ちなみにオマケで。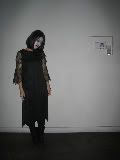 今年のハロウィーンはGothになってみました。
生涯、最初で最後のGothです。