I usually have lunch at Food For Thought which is a sustainable vegetarian and part of vegan cafe owned by PSU.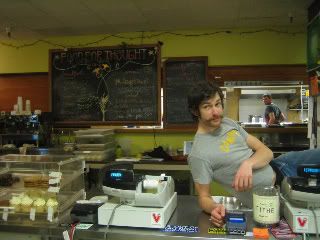 Yesterday I was reading the Vanguard dining guide.
I like to read restaurant reviews.
I found they wrote about FFT like this;
"They may not make bad food- in fact their vegan pastries are usually damm good - but consistently low food counts and slow service really make it obvious that FFT is a poorly-run student project, not restaurant."
Wow! Harsh!
But I don't expect food reviews to have kiss-ass comments.
Food reviews should be honest like that, even though it not that I agree with this comment.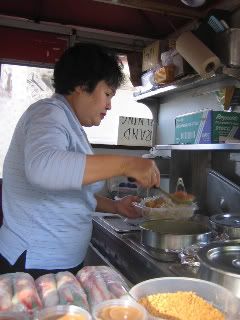 Vangard have some reviews about the food carts also.
I had never had the lunch from carts near PSU, so I decided to try Thai cart by the science buildings.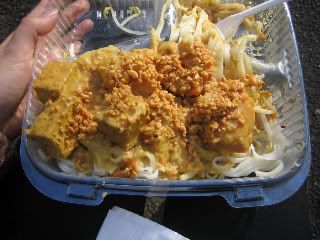 I got the Phat Tai with curry source with Tofu.
I ordered small one but it was pretty big.
Yum yum! It was so good, and i ate all of them.
That was my lunch of yesterday.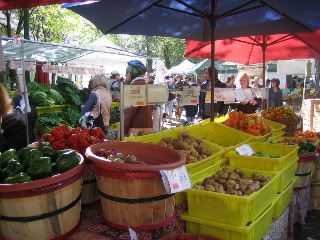 Today, on the way to school, farmers market was going on in Parkblocks.
I stopped by there because I wanted to eat fresh seasonal apples.
There were many kinds of apples and pears, and i tasted them too much.
I think all I taste was almost a hole apple.
I was pretty satisfied with it, and I quit to buy apples.
I was a unwelcome customer maybe! Sorry farmers!
I was still hungry.
I walked around more, and I found this.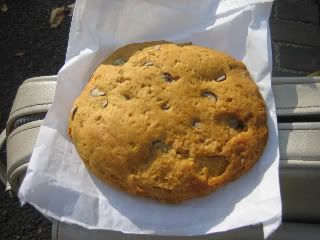 Pumpkin cookie with chocolate chips!
I made a snap decision to buy this.
I brought it back to campus and I ate it with coffee.
It was dumn good!
Lately I have eaten a lot becuase everything is tasty.
It's not my fault but your fault, fall!