Beth's farewell party is still going on.
Last night after we chilled out at the bar for a while, we hanged out outside playing soccer on the street and making a
big
pile
of
leaves so that Jake
runs
and
jumps
into
it
.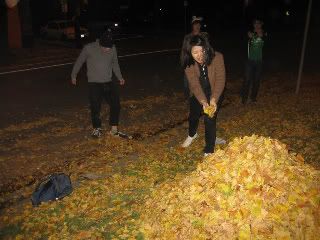 Then some drunk kids came out from the bar and joined us.
We all went crazy.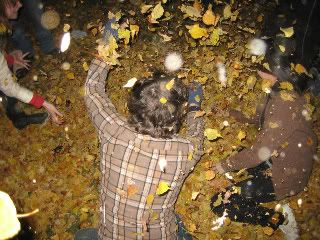 Jumped into the leaves altogether and laid down on the ground.
My hair and the wool cardigan were filled with leaves.
Somewhere in NW, the block party happened by accident.
The unexpected event like this is so much fun, and it left with a lot to think about.
Now i struggle with myself thinking about my life plan.
I DON'T WANNA LEAVE HERE! BUT I HAVE A JOB IN JAPAN!
Oh i like my life here so much! maybe too much? - I have a option for this, doing internship and stay here one more year.
But I already got job in Tokyo from next spring. I can't give it up - the job is very good condition for me.
The deadline to apply to the internship is coming up next week.
What should I do?
One day my friend told me there were two types of people:
One who lives in the present / one who lives for the future.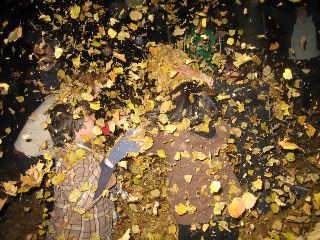 Last night, I lived "now " and thought "lifetime is only once" with covered by a bunch of leaves.
But...... I can't help thinking about the future, Oh I'm such a chicken.
I'm getting stuck with it for a last few days.
In either way, it would be fun, so I'm even more indecisive.
Umm... Sometimes life is hard.
昨日偶然に起きたブロックパーティー。
って言ってもただ路上でサッカーしたり、落ち葉まみれになって遊んだりしただけだけど、こういうハプニングってかなりかなり楽しい。
あー今を生きてる!って感じ。
今すごい迷ってることがあって、それはここにもう一年残ってインターンシップするかどうか。
でももう日本で仕事が決まってる。
どっちに転んでもきっと楽しいと思う!(そう願う!)
だから余計に迷う。
うーん、難しい。。。。