紅葉の季節。
そういえば、9月に引越ししたんだけど、
新しい家の近所には木がいっぱいあって、
住宅街なんだけど、なんかちょっと森みたい。
今日の朝は空が澄んでて気持ちよかった。
ポートランドは雨が多いから、晴れてるってだけでかなりスペシャルなんです。
もうけっこう寒いけど、こんな日は自転車に乗ってると気分いいよ。
やっぱなんだかんだいっても秋が一番好きだな~
Yellow, Orange, Red.. It's fall.
My neighborhood has so many trees, I sometimes feel like I'm in the wood.
This morning was very beautiful.
I left my house and I took a deep breath.
I felt so good.

I biked to school as usual.
I didn't watch where I was going, and I almost hit the car.
Oops, I'm too young to die.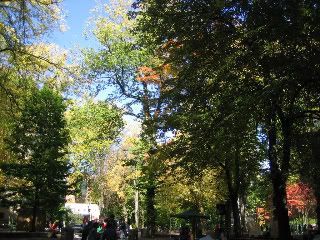 I was sitting on the Parkblocks and enjoyed the sunshine.
Yeah I like fall the best.