最近ともちゃんと編み物はじめました。
この前Hawthorneまで毛糸と針を買いに行って、今日はベルモントのカフェでのんびり編み物。
てか、毛糸買いに行って驚いたのが、毛糸って安くないのね。。。
ともちゃんといろいろ毛糸屋さん回って、手ごろな値段のがなくて、途中で寄ったDollar Treeで1ドルのマフラー売ってるの見つけたし。
作るより買うのが安い世の中ですね、恐るべし大量生産。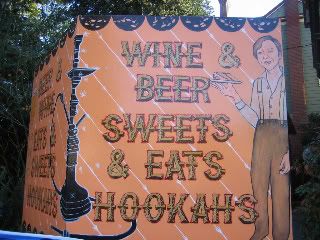 ベルモントは自分の中でかなり熱いです!
あの平和であったかいどっかなつかしい雰囲気が超ポートランドっぽい。
今日行ったカフェは古い一軒家のカフェで、すんごいかわいい。
パティオでは水タバコもすえるんだって。
今日飲んだラベンダーのドリンクはかなりおいしくて、リラックスしながらの編み物でした。
こういう小さな幸せが大切よね。
マフラー編んでるんだけど、いつ出来上がるかな。
実はマフラーが必要で編んでるってより、編み物したいから編んでるって感じです。
完成したら誰にあげようかな、やっぱり自分かな?
今年の冬はこれだね。
去年もやっとくんだったなぁ。
I recently started knitting.
Last week, I and Tomoyo went to buy the yarn and needles to Hawthorne.
Tomochan bought the cute white yarn, and I got the grey one.
I was surprized the yarn was not cheap.
We went around several yern shops to look for reasonble one, and on the way, we stopped by Dollar Tree, and I found a doller scarf there.
It's kinda weird; today hand-made generally costs more than buying at store despite it doens't have a labor cost.
Oh mass production is scary....
But I wanna do knitting!!
Today we went to the cafe in Belmont called The pied caw coffeehouse.
Belmont is the one of my favorite neighborhood.
The atomosphere there is very Portland, I think.
The cafe is the old house which has the nice patio and you can do water pipe there.
I didn't try this time, but maybe next time.
I had a Lavender steamed milk which was sweetish with honey.
The smell of the lavender was very good for relaxing.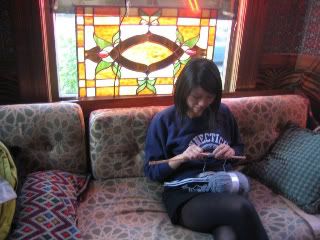 I should have done knitting last winter.
I didn't know the combination of hot drink, like coffee and knitting was that comfortable.
It's a small happiness.
I 'm knitting the scarf for you! xoxo